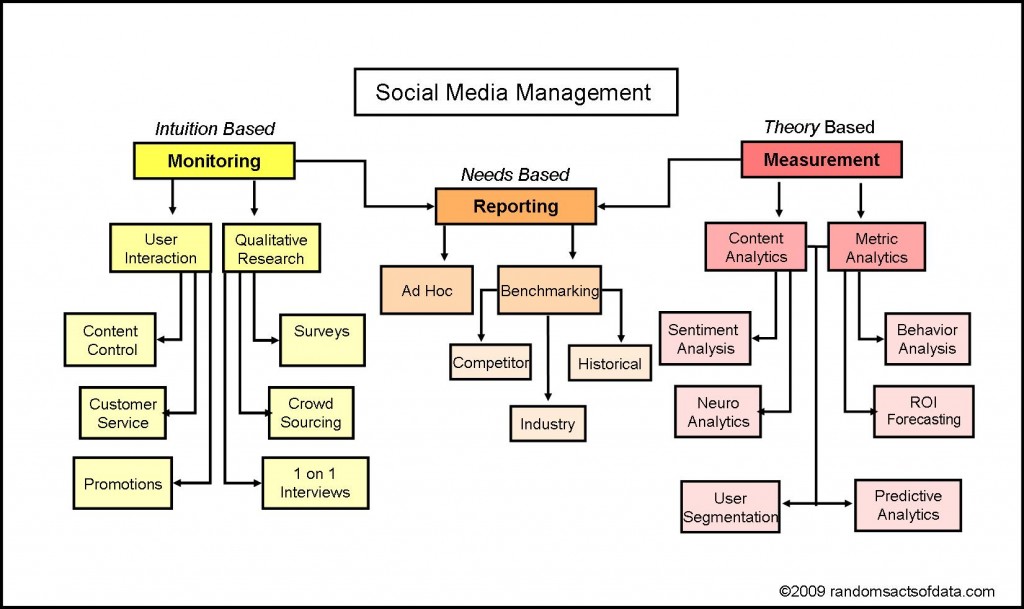 The world of advertising is full of silly metrics, probably because many who work there are suppressed novelists or film producers who didn't carry calculators in college. Alas, the problem of foolish marketing math has gotten more severe with the advent of social media, where you'll find numerous numb-headed attempts to explain how to "measure" "engagement" for "ROI."
Data guru Anna O'Brien got so ticked off by the hyperbole she created the chart above to explain exactly what goes into true measurement. She writes: "It hit me. Adding qualitative aspect to a previously primarily quant-based world has thrown some people so far for a loop that they are willing to accept complete gibberish as a viable marketing solution as long as it has words like 'tweets', 'likes', and 'posts' built into the equation." O'Brien's resulting post is a brilliant kingdom-phylum-class-order-family-genus-species hierarchy of the measurement universe, and she keenly draws the distinction between monitoring and true measurement.
Funnel. Return. Value.
We suggest the truth is even more simple: There are only 3 basic questions that need to be answered for measuring any marketing performance.
(1) Where is the customer in the marketing funnel? (Is your target moving through awareness, consideration, or action?)
(2) What is the ROI on the marketing investment? (Does the financial gain from your initiative outweigh the cost?)

(3) What is the resulting impact on customer valuation? (Customers are your real asset base; is their lifetime value rising based on your marketing activity?)
Customers are your source of financial value. Everything in marketing manages customers' inflow of value with those questions. Everything outside of marketing measures the outflow of organizational costs.

Yes, even Razorfish got it wrong
The problem with most social media measurement is it touches only a subset of (1) above: the awareness stage of the marketing funnel. You can track the number of mentions of a brand online, and rank the people talking by their level of influence, and evaluate whether the "sentiment" is positive or negative. But do all that, even with Razorfish's lovely Social Influence Marketing score (see page 24 of Shiv Singh's Fluent report), and all you get is a mood ring for how much customers love your product while they are talking about you. The vibe of awareness within the earliest stages of your marketing funnel tells you nothing, really, about whether they moved to action and bought something, the resulting ROI on campaign investment or long-term customer value.
That's OK. There's nothing wrong with measuring small sections of your entire value chain, and social media itself is primarily conversations that do not provide insight into consumers' true actions. But remember that. Don't get carried away by software that tells you X brand was mentioned 2,318 times yesterday, and that sentiment was up to 0.79. If you can put a number to something that helps you adjust marketing course for improved results tomorrow, then you know the measurement has value.
Footnote: We are a huge fan of Shiv Singh, one of the sharpest minds and clearest speakers in social media, and this post is not a knock on his insights. We just find the Razorfish social media score a narrow view of one way customer value flows into your organization, even within the confines of social media, and should be labeled as such. Hat tip to Anna O'Brien and the comments on her blog for inspiring this post.